"Concrete chunks": It's the little things in life...
VELDHOVEN - blog #5 Tuesday 23 March 2021
In this fifth blog, Gerard talks about just good, clear mid-rise projects that always include a special design element. And about the projects Overhoeks De Jakoba and Kunstwerf Groningen; two mid-rise architectonic concrete projects that each have their own focus, and the difference in concrete applications.
We have a mutual understanding – a project in the precast factory is in its final phases – a final concrete element is being poured and the space that will become available in the hall will be filled with the next challenge.
The feeling at the end of a project always conjures up words like; "It was a serious puzzle at the start, but now it's almost a shame that the project is coming to an end for us."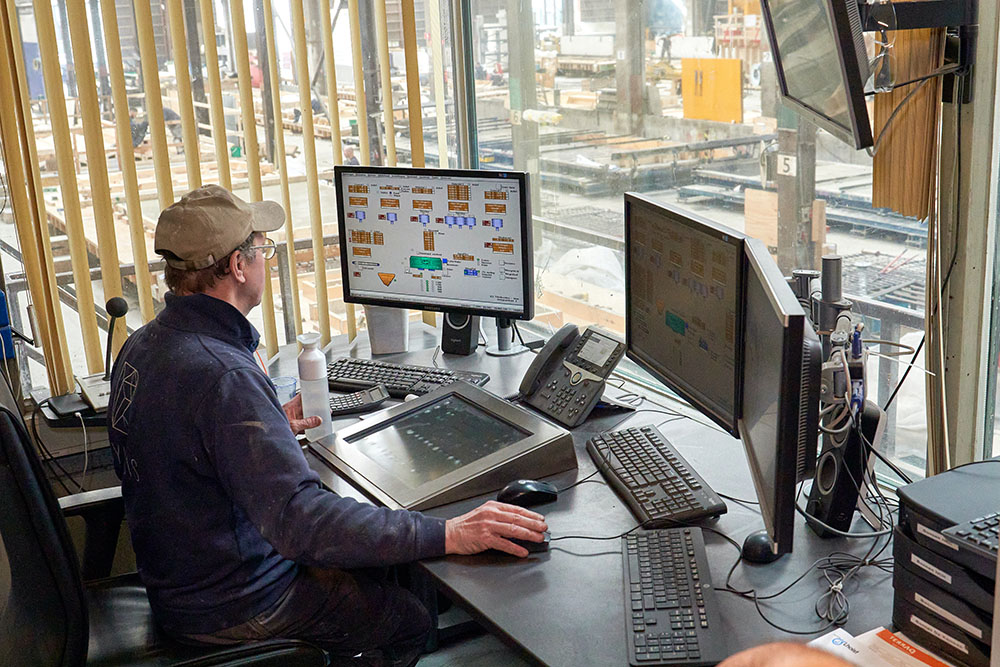 Just good, clear mid-rise projects that always include a special design element
Sometimes months or even years before this, steps have been taken to plan the follow up to the current project in the concrete factory. Long before the first concrete element is made, there have already been lots of meetings and conversations about how to make the concrete puzzle pieces that will ultimately bring the building to life. At Byldis these are often large, complex objects, or to use my neighbour's words: "How tall is the tower going to be, again?"
"I'll tell you something, neighbour – we can certainly handle larger projects, but we traditionally make good old mid-rise projects that always contain a special element of design and for which all facets of our club are keen use collaboration and craftsmanship to give the building its desired character". All projects are equal – we do not distinguish between a project from a prize-winning architect or one from a young architect's firm that wants to make a difference in the construction world. Of course, one is more experienced than the other, but we maintain the same focus on each and every project.
As a concrete technologist I focus on all the properties of concrete, from its fluid state to its fixed, solid destination in the concrete element. As well as with the standard self-compacting concrete, my passion lies in the architectonic concrete composition and the final appearance of the finished product. The great thing is that this kind of concrete effect can become the calling card of the building in the "smaller" projects. All it needs from us is personal attention, because it is not only concrete, but also the engineering – work preparation – mould construction – the reinforcement – compaction technology – the post-processing – the aftercare on site - completion with aluminium frames and glazing via Byldis Facades and careful loading onto a transport vehicle before it leaves through the gates. If we assemble it ourselves, there is another team waiting to put the puzzle together at the other end. It only ends when we see the photos of a festive opening on social media.
Two mid-rise architectonic concrete projects that each have their own focus
Every colleague plays his or her part, and without belittling the others I would like to highlight three of these activities that closely influence my aspect of concrete. The best way of doing this is to take you on a journey through the factory that is current focusing on the Overhoeks De Jakoba building project and the Kunstwerf Groningen project. Two mid-rise architectonic concrete projects that each have their own focus. They are completely different from each other, but each receives personal attention and gets exactly what is required.
Overhoeks, building 'De Jacoba' project
De Jakoba has a decorative concrete composition with a pistachio, light green colour and, after blasting, the green-black aggregate material with a slight shine becomes visible. A concrete that is based on a self-compacting concrete but adjusted to a low-compaction version so that we can compact the specially curved shaped using vibration.
Stability is important because the vertical deposits will also be polished or blasted. If you continue vibrating for too long, or the mixture is too wet, a "porridge" layer develops on the finishing side. This is not immediately a problem with concrete that remains smooth but blasting or polishing will reveal a poorly mixed finish.
It is purely aesthetic, but the concrete pourers and finishers pay attention right until the very last drop in order to prevent potential problems for their colleagues further down the process. The mixture is created in the concrete mixer at the concrete plant. All kinds of sensors give digital information, but the mill manager sees each and every decorative concrete batch in his mixer by actually physically looking into the mixer before it is emptied into the container. You will often see me, or my concrete laboratory colleague, there because that's where you can still do something about the cohesion. Sensors are good tools, but the craftsmanship of a mill manager is what makes concrete!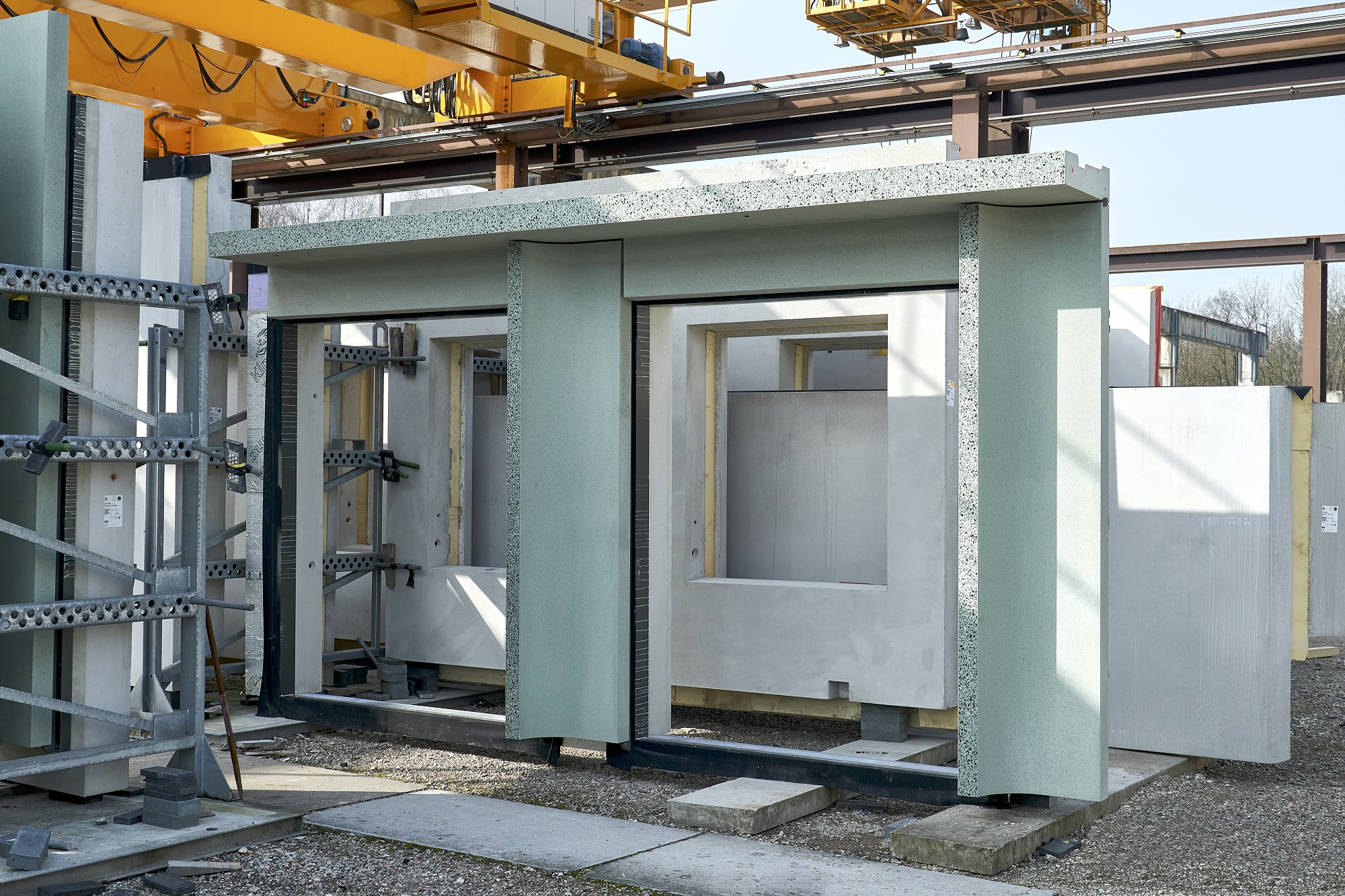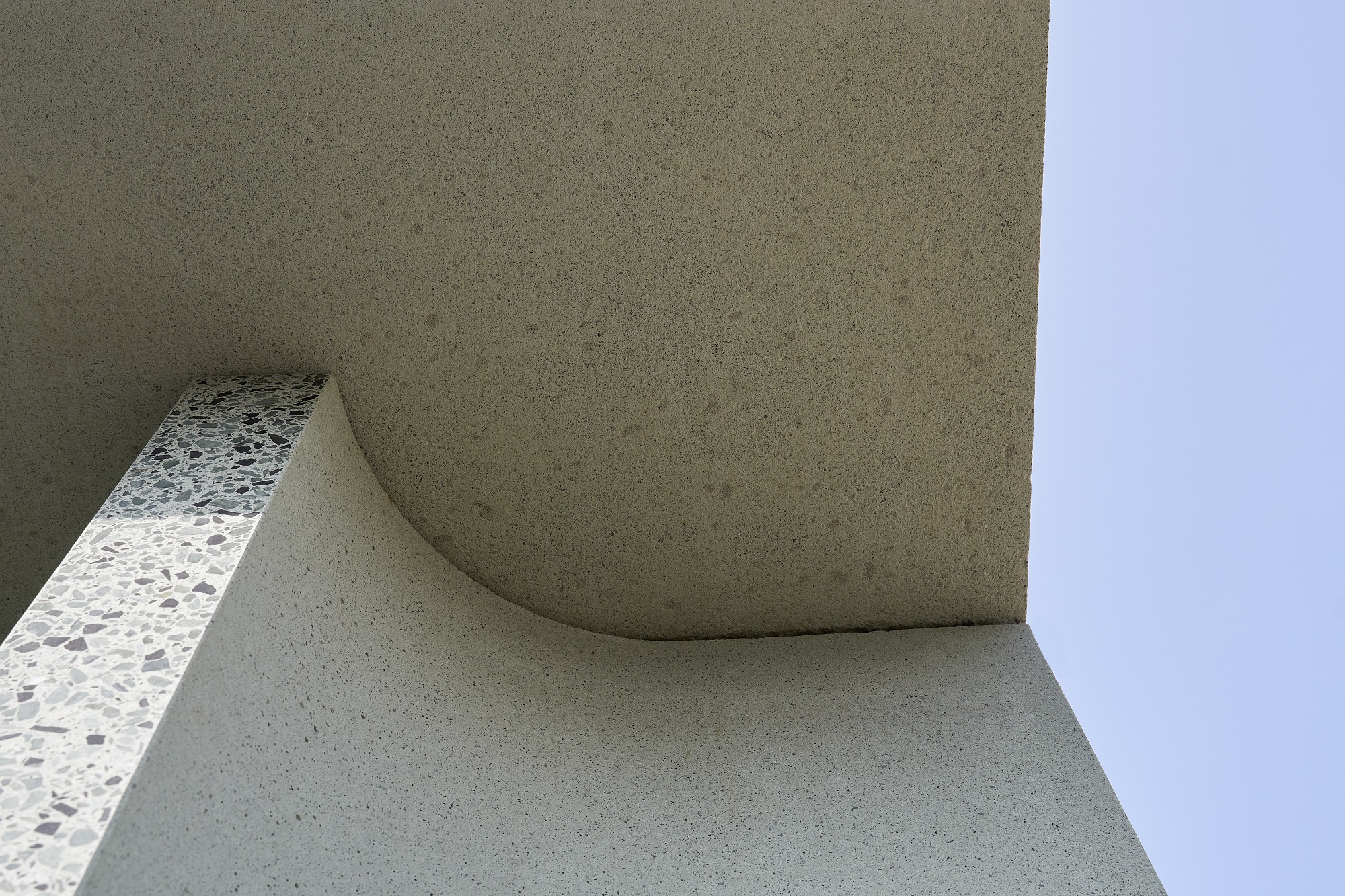 Kunstwerf Groningen project
Completely different aggregates are used to mix the dark grey and white concrete mortar for the Kunstwerf Groningen project. The dark grey is based on basalt and from the start is a traditional vibrate mixture – a mixture that is compacted through vibration in elements that are sometimes 50cm thick, while the walls are smooth and white, made using a semi-self-compacting concrete mixture that is further deaerated by the slow shaking of the mould table.
The same operations are always carried out with these mixtures, in the same mixer, but with different starting values. Remember that concrete consists of constantly differing natural aggregate materials and a sand with grains varying from 0 to 4 mm cannot be distributed evenly; sometimes it is finer, sometimes coarser. 
…And then there's the concrete technologist who wants to make a stable mixture using 0-1 mm sand and coarse 8-15 mm aggregate because it fits best with the architect's vision... What a great job I have. 😊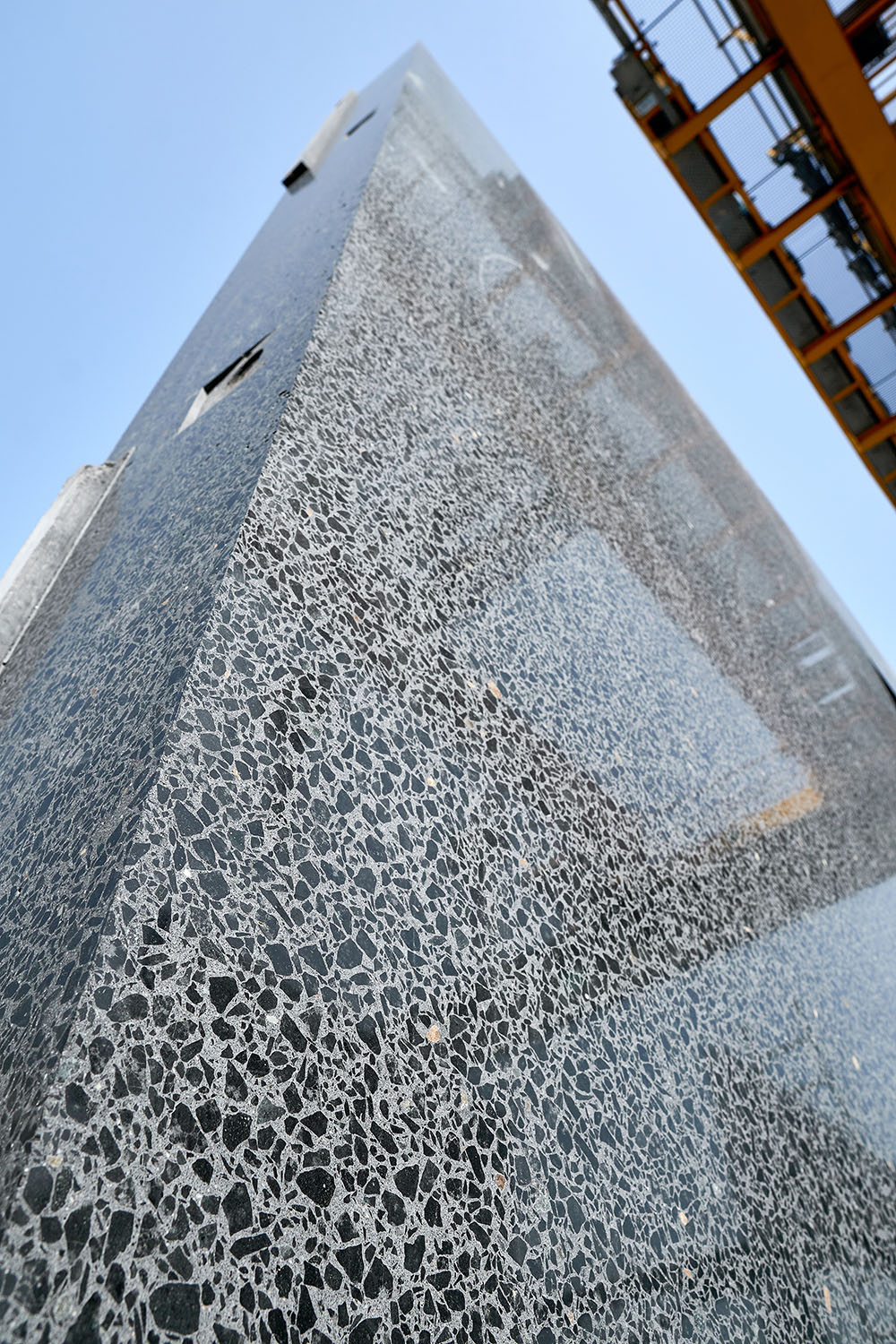 Post-processing creates the final appearance
Mixing and pouring is one thing, but there is also post-processing. This is what creates the final appearance that was approved in advance based on all kinds of samples. Both De Jakoba and the Kunstwerf projects include concrete surface elements that require blasting and polishing.
Concrete blasting is a technique that cannot be done mechanically, but rather using a pressurised blasting grit that is blown from the nozzle of a blasting hose, controlled by a colleague in a protective "moon suit" (see photo).
The concrete elements are expertly loaded onto a blasting trolley the day after pouring, so that they can be moved inside along rails into a custom-lit, enclosed space where the blaster treats the surface using exact, manual movements. We call this "colouring" the elements.
De Jakoba is particularly challenging because it involves blasting a curved surface, instead of a straight, vertical one. It is blasted with the finest grit at a relatively low pressure which makes it even more difficult to keep it even. The dark grey Kunstwerf enters the same blasting cabin just a few hours after the Jakoba elements. A different concrete – a different pressure with a different grit – a deeper blasting depth.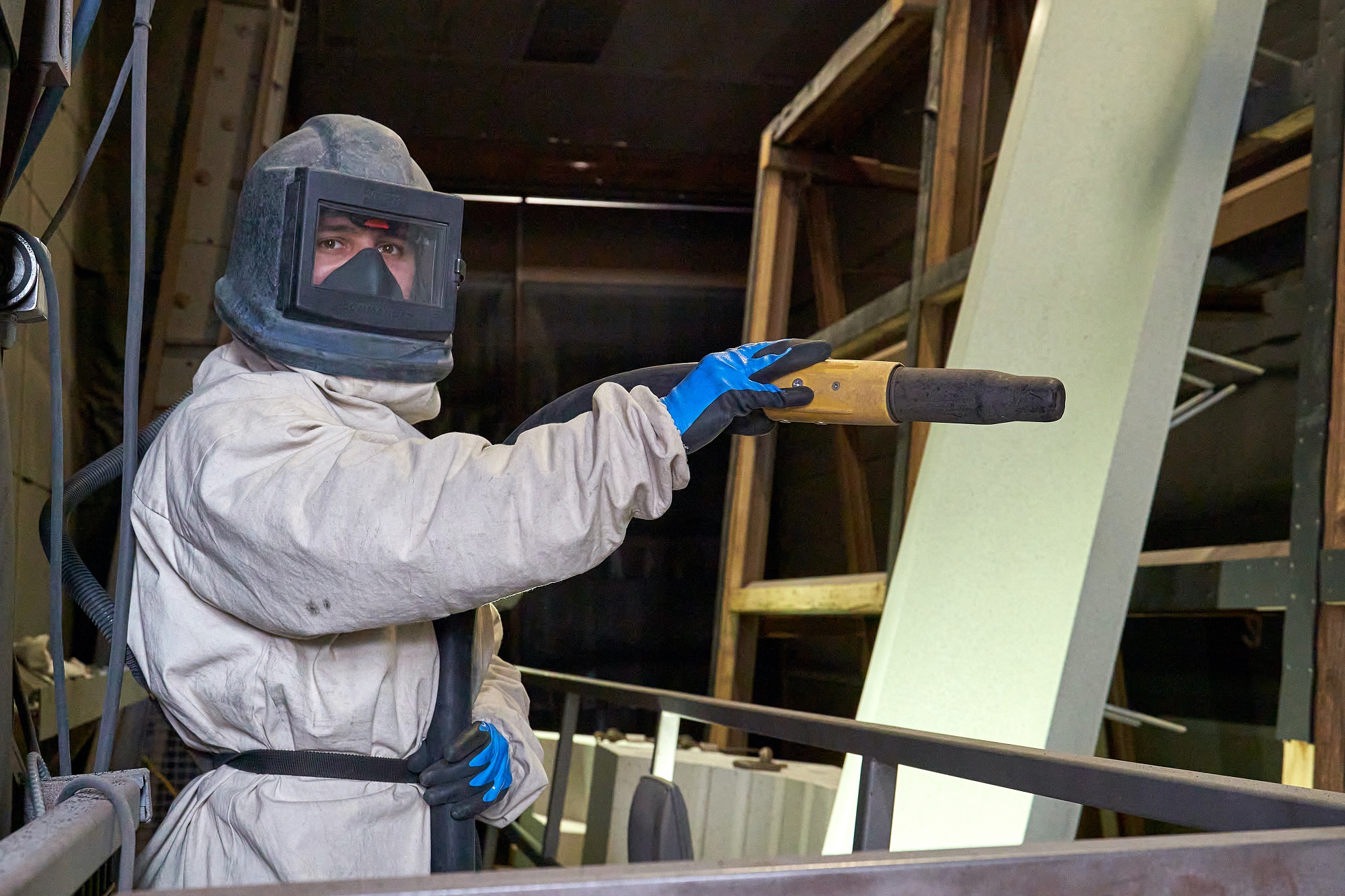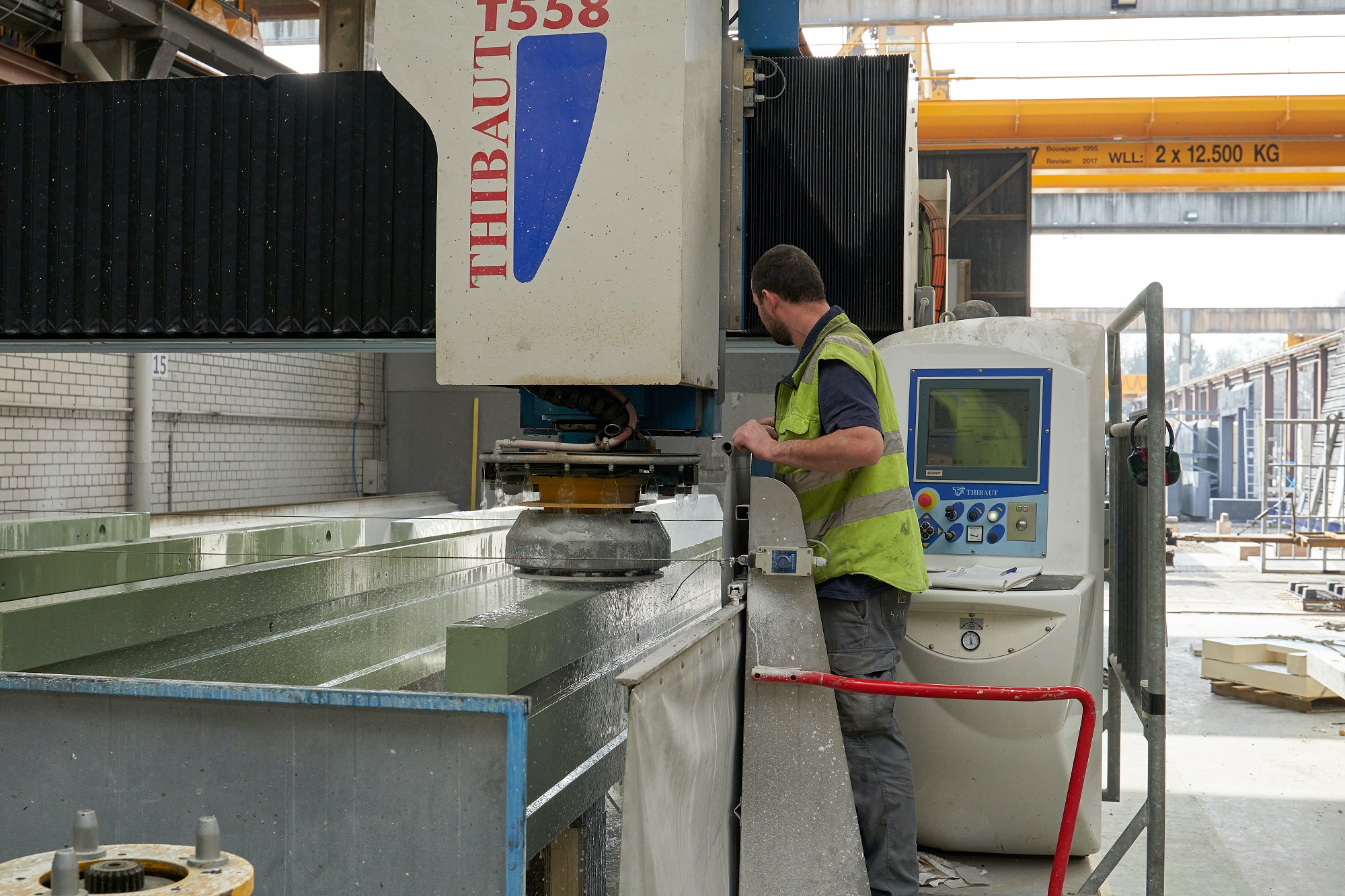 Each element is laid exactly flat using measuring sensors
The concrete, which is removed from the mould the day after pouring, is not equally hard every day, just like the temperature does not stay at a constant 20 degrees every day. The blasting operator assesses the elements when they arrive and must make a new estimation every day about the hardness of the concrete surface. No digital sensors – just good craftsmanship.
Two weeks after the elements have been poured and blasted, they have developed the correct advanced compressive strength and are brought back to the polishing area. There are sections that must be polished to match the previously approved sample. This applies to both De Jakoba and Kunstwerf. It is not a question of laying the element flat and pressing a button. Once again, it is precision work – even programming the machinery demands time and expertise. Each element is laid exactly flat using measuring sensors, to make sure that the polishing stones grind the element to the exact required finish.
Polishing work carried out by the hands of a polisher are competing against the automatic polishing machine, and the outcome is always a tie. The polishing machine is very precise and manual polishing is a specialised craft, so I dare to say that the manual polisher still wins on points. Compare it to a chess player who uses his last move to put the most advanced chess computer in checkmate. You understand - craftsmanship.
Digital design wishes come to life in a collaboration between modern and traditional technology
During an initial inspection of the first concrete products ready for transport, a client and/or architect assesses what he/she had in mind and whether it corresponds with the agreements made and the animation on the digital screen. The first positive critical words are spoken, which is exactly as it should be. Because whether it's a bicycle shelter or a 200-meter-high residential tower, only honest mutual communication can lead to the right adjustments.
Digital design wishes anno 2021 come to life in a collaboration between traditional and modern technology. It feels like I am writing a commercial, but with a smile on my face I write the final words in this blog and it surprises me in a nostalgic way that even these old words are still up to date:
"A project big or small – Byldis does it all!"
Written by: Gerard Brood, Senior Quality Officer and Concrete Technologist at Byldis 
Do you want to read more "Concrete chunks" by Gerard Brood? That's possible!
Even after it has been broken up into little chunks, it keeps going and can still be incorporated into a different composition for a new project. A multifaceted construction material called: concrete. In "Concrete chunks", Gerard Brood talks about his work as Senior Quality Officer and Concrete Technologist at Byldis. As well as a passion for his work, he also loves describing his observations:
My name is Brood – Gerard Brood. That's it, as far as the comparison goes, as I am a concrete technologist and I drink tea without sugar. According to my digital signature, I work under the title of Senior Quality Officer. Senior stands for a total of 35 years' experience of working in, on, with and almost under concrete chunks. After all this time, I can still regularly be heard to say, full of enthusiasm: "Dear people, concrete is a wonderful material and you can really make fantastic things with it!" Let me briefly share my working environment with you. Not immediately in detail about concrete and all its different aspects, but I just want to let you taste the atmosphere at Byldis. Read the full blog An introduction.
A conversation during a chance meeting with a former classmate brings the following question; "What are you doing nowadays – are you still in concrete?" The idea that you can quickly get bored of something like concrete comes from the perpetual image that it is grey, monotonous and boring. But it is very easy to break through this idea: just put concrete die hards in the spotlight and this mysterious material reads like a book that you can't put down. Read the full blog The many faces of concrete.
"There is always something with concrete." These words are printed as the title of an article I see on my smartphone. Initially, it evokes defensive emotions in me, but I quickly realise that these words are simply a cry for attention for one of the most versatile construction materials in the world.Luckily, there is always something with concrete. Not for the first time, I say: "Concrete is alive and adds character to a project." Read the full blog The power of concrete.
In this fourth blog, Gerard talks among others about the sustainability of concrete. The basic construction material, whose praise we sing from the rooftops here at Byldis Prefab: concrete! The many names carried by this material give shape to precast concrete, but a word like 'sustainability' can also be used to describe concrete. On one hand because it is almost indestructible and is by default designed to last 50 years, but can just as easily keep going for 100 to 200 years. Sustainable in the sense of reuse - circularity. From the recovery of all the raw materials used to make concrete into a solid mass and then placed in a precast wall, to the reuse of empty office units with smart precast re-design possibilities.

In terms of innovation, there are so many opportunities nowadays. This is why we are now inviting clients, architects, technicians and students to inspire us with their new designs. Concrete can always be used as the basis or as a component within a new project.
"But isn't cement bad for the environment?" The question came from a student at the Academie voor Bouwkunst. And there you are, with the cement-bound concrete tile you have just presented. Read the full blog We built this city on Rock and Roll.
In this fifth blog, Gerard talks about just good, clear mid-rise projects that always include a special design element. And about the projects Overhoeks De Jakoba and Kunstwerf Groningen; two mid-rise architectonic concrete projects that each have their own focus, and the difference in concrete applications. Mixing and pouring is one thing, but there is also post-processing. This is what creates the final appearance that was approved in advance based on all kinds of samples. Both De Jakoba and the Kunstwerf projects include concrete surface elements that require blasting and polishing. Read the full blog It's the little things in life…